Please check out our favorite links. I think you will find them useful and informative. They are essential parts of our Constable Teddy Program.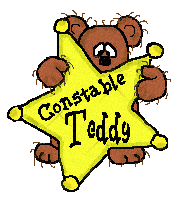 Search Engines
AltaVista You know us as the Internet's original search engine.
Lycos One of the most visited hubs on the Internet reaching one out of every two web users.
Yahoo! With over half a million sites divided into more than 25,000 categories, Yahoo! is both browseable and searchable.
InfoSeek GO Network is a new brand that brings together the very best of the Internet in one, easy to use place.
Favorite Sites
Teddy Bear Huggs I found this site while surfing and fell in love with the teddy quotes.
Holy Bears A worthwhile christian based organization that is near and dear to our programs heart.
Teddy Bear & Friends The official website for Teddy Bear & Friends magazine .
Agape Bears This is my source for bear purchases. One of my favorite teddy bear sites.
Swibco One of my favorite places for stuffed animals in general as well as puffkins!
Theodore Roosevelts Teddy Bear Check out this site and learn how the teddy bear first got its name!
Brownielocks This site has great teddy cartoons and a lot more!
Constable Leo Bullock This is the website of an Alabama Constable who has been a great support to the Constable Teddy Program.
Constable "Bobby G" Another great supporting Constable. He is our "sounding board" for the hopes and dreams of massive expansion for this program.

Thanks for visiting this site!