Whats new with us?
First of all it is my priviledge to announce that the Constable heading up the Constable Teddy Program, as of 2003, is Constable Gene Durand of Grant Parish. I will provide more information on this wonderful and giving Constable in the near future.


We are still well within the first year of this program up but the response has been overwhelming. Unbelievable support from the teddy manufacturers as well as the general public.


We have also started collecting new books, from various companies, to donate to children as well. This is a sub-program of the Constable Teddy Program which we are calling "Bears on Board for Literacy".


I have recently just finished the artwork, with the help of "Brownielocks" (please visit her linked site), on the first "GET TO KNOW YOUR CONSTABLE" Coloring book. If any Constable is interested in purchasing these for various schools and such...please contact me for further information.


We are also now selling our own Constable Teddy Program - "Paws for a Cause" bears. These were manufactured by Muffin Ent. and are 10" sitting brown bears wearing royal blue satin ribbons and tshirts with our Paws for a Cause logo. If you are interested in purchasing these they are each plus s & h.


Continue to check in on our site for donation updates and more information.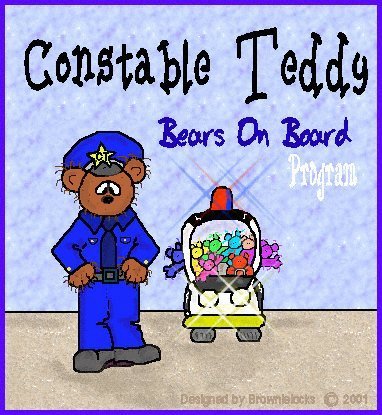 Donations
Rob LeClair, with Holy Bears, out of Houston Texas has been more than gracious with his donations to our program. Thank you Rob!

Patriotic Plush has donated their full set of 12 bears to our program also.

Swibco Inc. has agreed to donate one 18" Cosmo bear (for us to raffle off) as well as several puffkins.

Good Bears of the World has been very helpful to us also. They donated bears and have been more than willing to share tips and information with us.

Boyd's Bears, through S.A.M. (Stuffed Animal Missionary) has donated well over 100 animals. Thanks to Mary Reding of S.A.M. for the kindness.

So many more companies, and individuals have donated to us. I will try and change the donation list from time to time to give proper credit to all!